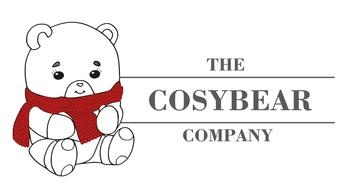 Here at The Cosy Bear Company we are a small upcycling business who had some success helping our grandma with her blood circulation and arthritis. This is how our journey started. She always suffered from cold hands and used to try and keep her hands warm in front of the open fire or hot water bottle. The problem of cold hands and lack of blood circulation led to acute pains.  The doctors always advised our Grandma to take painkillers but she preferred trying natural methods. So we had to do something!
Our mother who loved sewing and in fact is brilliant at it, made our grandma a pair of gloves out of her old cashmere jumper. Trust me they did not look anything like these beautiful ones we sell now. My grandma started to wear these and they helped her. The days she didn't wear them her hands would feel cold and hurt, so she never took them off, even in the summer months and I think that was the trick for the gloves to help her pain. The snug, comfy fit really helped with the blood circulation and pains in her hands.
So, to trial it out, we went to the local charity shop and bought a few cashmere jumpers! Even 2nd hand was still awfully expensive. After altering the design we gave them to other people we knew who had the same problem. Guess what? The feedback was great. It really helped them with their circulation and pains. We are often told that they are great for arthritis and Raynaud's sufferers.  People also loved the comfort, design, and the range of colours too.
My wife, who is a great businesswoman and my mother who is an incredibly talented seamstress, decided to join forces to start our family business, The Cosy Bear Company. We decided we wanted to help others get great results as well as have a go to fashion accessory.
Our products are upcycled which means we are sourcing products already used or unwanted and creating something new. This directed us to think of the sustainability of fabrics and how we can do our part in helping the planet. At first, we started researching if cashmere was widely available to make a business out of this. We had to find the cashmere in bulk and it had to be used to save it from landfills. We researched, spoke to local charities, sent endless emails all over the globe hoping to get some success. It was a slow process but eventually we got some interest from companies and finally made some genuine contacts.
After endless hours of researching and understanding the amount of fabric that goes to the landfills we couldn't stop at just using any one fabric. So, this is where we extended our vision for the brand and came up with our new department 'Upcycled Designer'.
Our vision is to offer exclusive products and give you a unique customer experience. Looking into the amount of high fashion fabrics being disposed of was truly shocking. Still intact and certainly not ready for waste.  Also, we found the vast amount of new material being disregarded was something we needed to look into. What could we do with the fabrics, how could we give it a better use?
The CEO being the son of a market trader and being brought up around the rag trade, developed a love for fashion and high-end designers. We researched further into where we could help reduce waste of new material, our path of research took us around the world and ended up with having access to authentic end of roll designer material.
We done our due diligence and made sure the agents we were working with are delivering us the real authentic material. As soon as you see and feel this material, it really speaks for itself.  Many mood boards later and experiments in developing products, we have now manufactured a wide range of upcycled designer products. All made from either new or old material, ranging from gloves to furniture. We have partners who we work with us in Canada and the UK who make our bespoke furniture. Quality and craftsmanship are at their finest when it comes to the product range.
Which bring us on our journey so far. We hope you love our products as much as we do and appreciate our efforts in doing our bit for the environment.